The change of season is always a good excuse to freshen up the look around your home. Fall offers many opportunities to add simple touches that will warm the atmosphere and make you think of hay rides and hot spiced apple cider.
There's no need to go crazy. Adding a few simple items to three key areas can give you just the change you're looking for.
You can easily add some fall flair to your dining room table with a splash of orange. Orange napkins with a few coordinating pumpkins and candles will do the trick. If you want a more rustic look, add some burlap or other naturally colored, textured elements.
A focal point of many living rooms is the fireplace. Dressing up your mantle for the season is the perfect way to cozy up the atmosphere for the fall. Add fall-colored blooms, pine cones, or candles to the mantel. Drape natural and seasonal garlands along the mantel to add to the affect. Add additional warmth to the room with a few cozy throws and pillows. Mixed textures will provide the most impact.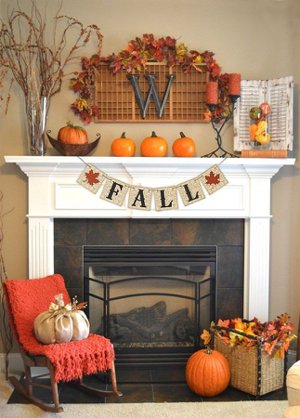 Kitchens tend to be the primary gathering space for families and it's another great place to add a touch of fall. You'll want to add a few accents in the right places ensuring that they are not diminishing the functionality of the space. Natural elements are a welcome touch. Add pine cones, gourds, and small pumpkins to a wooden bowl or a basket on the center island. Add a fall wreath to your pantry door. For a particularly celebratory look, display copper mugs or vintage glassware.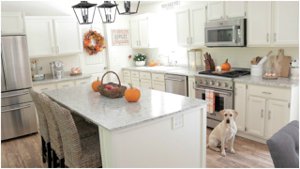 Focusing on a few key areas where your family and friends tend to gather will make your home feel welcoming and warm in the cooler days ahead.