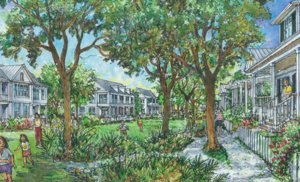 The anticipation has been building for years and in recent months agreements were reached that will allow construction to begin on one Celebration's final communities, Island Village. Like the existing villages in Celebration, Island Village will offer an abundance of amenities for a family friendly environment and will be comprised of approximately 1300 homes. Celebration, when completely developed will consist of approximately 8,065 residents. This addition of Island Village will bring Celebration up to approximately 90% of that number.
At the end of 2016 The Celebration Company (TCC) came to an agreement with Osceola County Schools regarding where to locate a new school to accommodate up to 1000 new students from Island Village. Originally the plan called for a new school to be constructed in downtown Celebration, but residents found strong objection to this for several reasons. The plan was to build the new school on existing athletic fields which would diminish activity for Celebration's youth. In addition, Celebration prides itself in being a "walkable" community and a school in downtown Celebration would not be within walking distance of Island Village. A task special task force was created by the Celebration Residential Owners Association to find a solution that would work for everyone. The new plan outlines the construction of a new K-5 school within Island Village to accommodate students from the newest part of the community. Scheduled to open in the 2019-2020 school year, this school will be a wonderful addition to Celebration!
Island Village will be developed on 370 acres south of World Drive and will include all of the amenities currently enjoyed by Celebration residents in the existing villages including green space, pocket parks, and community swimming pools. In addition, there is 1000 square foot commercial district being built at the World Drive interchange that will include a large grocery store and several new restaurants!
Building of infrastructure may begin as early as December 2017.
Sound interesting? Contact me today for more information! 407-922-9011 or email info@TonyDavidsHomes.com